The LGBT pride flag, commonly known as the rainbow flag or gay pride flag, is a symbol of lesbian, gay, bisexual, transgender and queer (LGBTQ) pride and solidarity. The LGBTQ pride flag has become a widely recognized symbol of the LGBT community and is often flown at pride events around the world. It has also been adopted by a variety of other groups to represent their own causes, including peace and environmentalism.
It originally consisted of eight colors, each of which had a specific meaning: pink for sex, red for life, orange for healing, yellow for sunlight, green for nature, turquoise for art and magic, indigo for harmony, and violet for spirit. The flag is typically displayed horizontally, with the red stripe on top, as it would be in a natural rainbow, and is currently six stripes.
Who designed the rainbow/LGBT pride flag?
The rainbow flag was designed and created in 1978 by Gilbert Baker, a San Francisco artist, who was asked by Harvey Milk, a gay rights activist, to create a symbol of pride for the LGBT community. Baker drew inspiration from many sources, including the civil rights and feminist movements, and designed a flag with eight colors. Each color had a specific meaning:
Pink for sex
Red for life
Orange for healing
Yellow for the sun
Green for nature
Turquoise for art/magic
Indigo for serenity
Violet for the spirit
The pink and turquoise were later removed due to production issues, and consequently the flag was reduced to its current six-color version.
The Philadelphia eight-stripe flag
The city of Philadelphia adopted a revised version of the flag in June 2017. It was designed by the marketing firm Tierney who added black and brown stripes to the top of the standard six-color flag, to draw attention to issues of people of color within the LGBT community.
The Progress Pride Flag
The Progress Pride Flag is a version of the rainbow flag which includes an additional five stripes: pink, light blue, white, light brown, and black. It incorporated elements from both the Philadelphia flag and the trans pride flag. The stripes represent marginalized communities within the LGBTQ+ community, explicitly trans and nonbinary people, LGBTQ+ communities of color and those living with HIV/AIDS.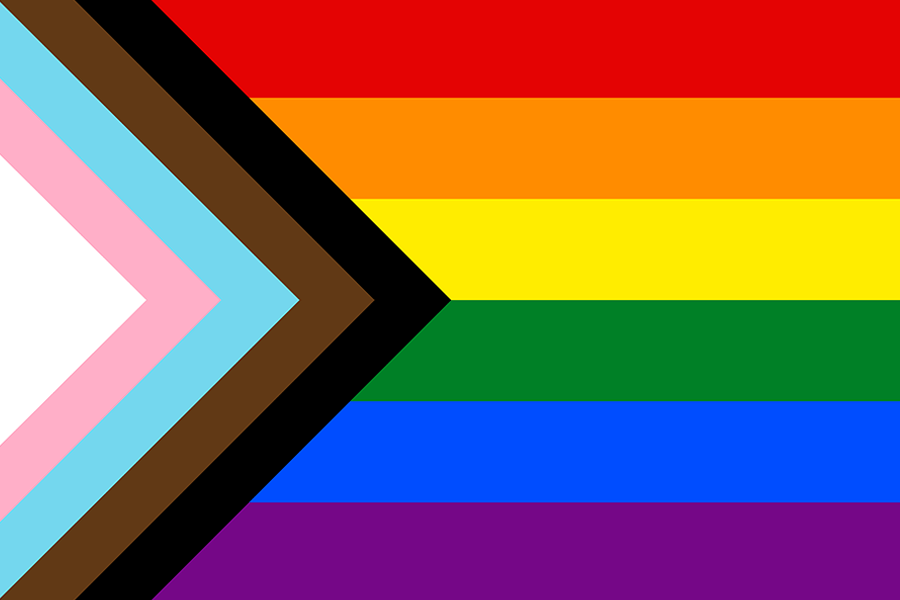 The Progress Pride Flag was designed by artist Daniel Quasar in 2018 as a way to show inclusivity and intersectionality within the LGBTQ+ community.
Intersex-inclusive redesign of the Progress Pride Flag
In 2021, Valentino Vecchietti of Intersex Equality Rights UK redesigned the Progress Pride Flag to incorporate the intersex flag, a purple circle on a yellow background.
This Intersex-inclusive design added a yellow triangle with a purple circle in it to the chevron of the Progress Pride flag. It also changed the color of green to a lighter shade, not sure why.
This flag has been adopted by Intersex organizations and activists around the world as a symbol of intersex pride and visibility.